スタート時期はあなたが決定

現在のレベルに合わせてスタート、学習のペースもカスタマイズ。ビジネスニーズ、旅行中のコミュニケーション、様々な目的に照準を合わせた学習法。
ご都合に合わせたスケジュールを

平日、週末、祝祭日の朝から夜まで開いています。週にクラスを何回でも、お好きなタイミングでご受講ください。私たちのキャンセリングシステムは急なスケジュール変更時に役立ちます。レッスン開始時間の24時間以上前にメールかお電話にてお知らせください、先生とクラスルームの空き具合を考慮しリスケジュールいたします。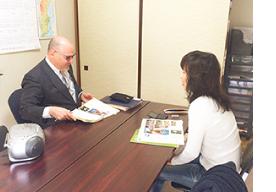 クオリティの高い先生
先生方スタッフは様々なバックグラウンドを持つ献身的/専門的な世界から集まった選りすぐりです。コースは実証済みの方法・教材を使用し、訓練を受けたネイティブ又はネイティブレベルの先生によって行われます。ほとんど全員が英語・日本語を話しますので必要に応じて補助的に使われることもあります。
AITは1984年以来30年にわたってクオリティの高い語学レッスンを提供してきました。
当校のクライアントは各企業、金融機関、大使館・領事館、学校、政府機関ならびに団体、病院、ホテルなど様々な業界分野にわたります。
通学時間や交通費など余分なコストを節減するため、企業様のオフィスやご指定の場所に教師を直接派遣してレッスンを行うことも可能です。また、二子玉川駅付近にある当校の教室でレッスンを行うこともできます。レッスンのクオリティにきっとご満足いただけるものと確信致します。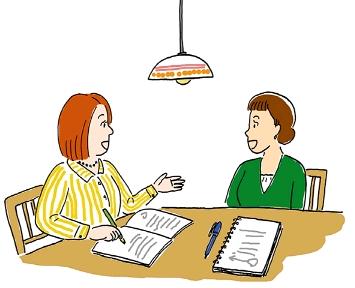 Affordable private lessons.
Choose from over 30 languages.
Our private lessons allow you to begin at your current level, proceed at your own pace, and focus on your immediate business, travel, or study needs. Our relaxed, homey classrooms are located in beautiful Futakotamagawa, Tokyo. Our friendly and supportive staff are ready to welcome you. We encourage you to take a free sample lesson—meet a teacher and experience our lessons firsthand!
語学コースの一般規則についてはこちら
サンプルレッスンから受講料の支払いに関してまで、弊社語学コースの規則が記載されております。もし他にも質問などありましたら直接お問い合わせください。
Our comfortable classrooms in Futakotamagawa are not the only place that students can learn a language. We will happily dispatch teachers to your company and conduct courses in your offices or meeting rooms.
Study in the comfort of your own surroundings
Students can feel more relaxed and focused when studying in the comfort of familiar surroundings. And teachers can get a better sense of what students do and what they need, when conducting courses at their workplace.
Learn content that you can really use
The content of our business courses is often immediately beneficial for students. Students may learn how to introduce themselves, make and receive phone calls, give presentations, schedule appointments, and write and respond to email, among other things.
Save transportation costs and staff time
Lessons at your office help your company save transportation costs and valuable staff time. Students can easily attend before, after, or during work hours—whatever fits your schedule best!

QUALITY LANGUAGE INSTRUCTION

Great value!
Sign up within the campaign term, and study any language at a considerable discount off our general tuition. You may start a course at any time during the campaign period. Each course consists of 24 forty-minute lessons, for a total of 16 hours of classroom study. You may study as often or as intensively as you like. All lessons must be completed within 4 months. If you study with a friend, family member, or co-worker, you can save even more with our Friends and Family Discount.
Lessons and Classes
A "lesson" is 40 minutes. A "class" consists of two or more back-to-back lessons. Lessons may be grouped into 12 classes of 80 minutes each, 8 classes of 120 minutes each, or 6 classes of 160 minutes each. The minimum class length is 80 minutes.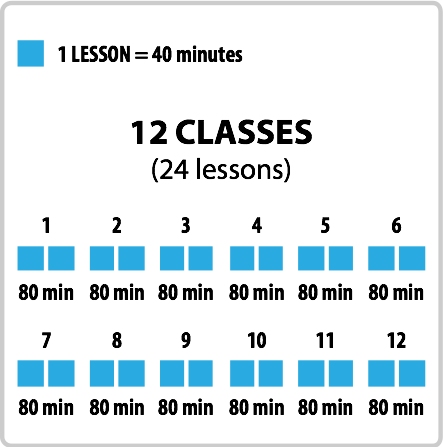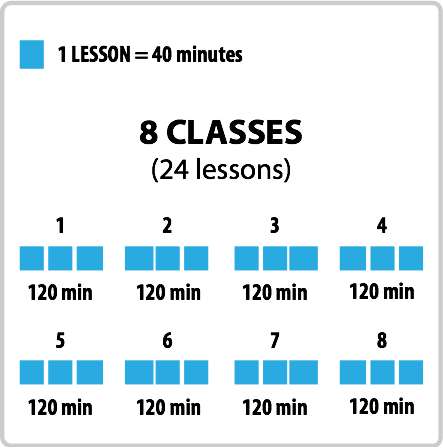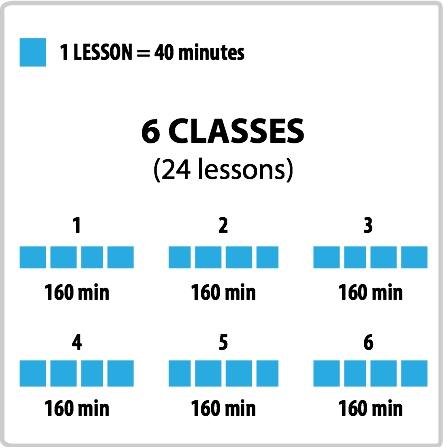 Rescheduling
You may reschedule lessons with 24-hour notice. Please remember, however, that all lessons must be completed within 4 months.
Payment
Payment is required in full in advance for campaign courses, by cash payment or bank transfer. We do not accept credit cards.
Entry Fee and Materials
In addition to course tuition, there is a one-time entry fee of ¥10,000. The cost of materials is not included.
Additional Campaign Courses
If you complete a campaign course and would like to continue studying, you may take another discounted course as long as there is a campaign in effect. There is no entry fee for additional campaign courses.
Location
All campaign courses are conducted in our classrooms in Futakotamagawa.
Free WIFI
Free WIFI is provided in the class room that allows you to used internet whenever you like.

Study with friends, family members, or coworkers, and each additional student pays just ¥1,000 per lesson. Split the total tuition among yourselves and each person saves 35–50% or more!
The Friends and Family Discount can be applied to any course, including our specially priced campaign courses.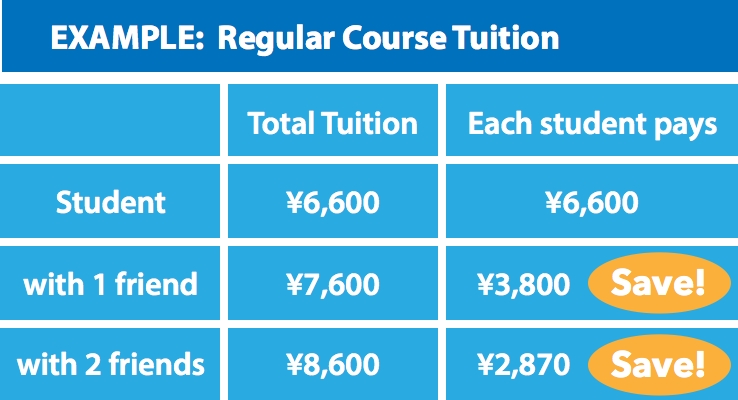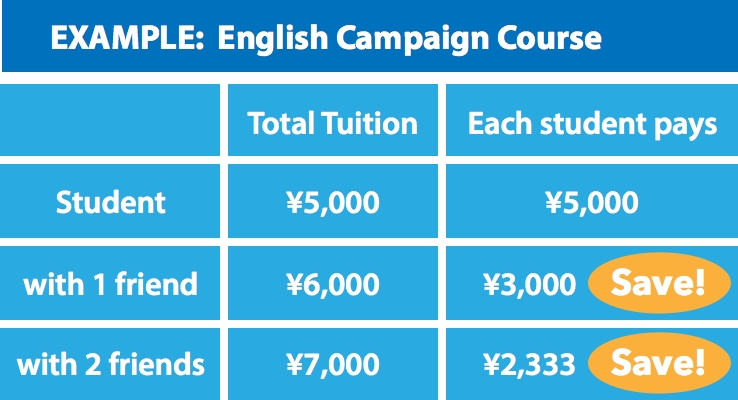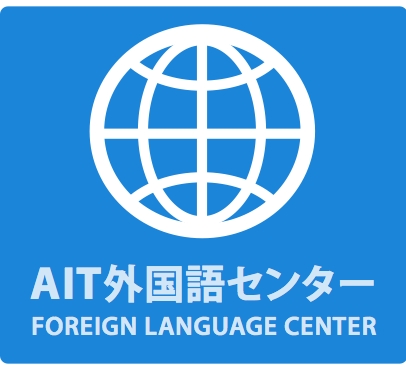 Call us now.
We're open every day, 9:00-17:30.


(03) 3700-8110
3-20-1-401 Tamagawa
Setagaya-ku, Tokyo 158-0094


Questions? Call us now!